---
Scott Roffers
Founder and Head Instructor
Scott is a black belt under professor Scott Huston of 360 Brazlian Jiu-Jitsu.
Scott began training in Brazilian Jiu-Jitsu in early 2010. It peaked his interest as a possible way to "pick up" a few pointers from a different perspective for the Freestyle and Greco-Roman wrestling that he coached in his home town each Spring. He immediately learned that the upper belts at this school could gain an upper hand over him through angles and leverage. This drew Scott in as he wanted to dive deeper into this martial art. Soon he was attending class three days a week. In four months he had dropped 20 pounds and had a desire to eat a healthier diet.
Scott had stumbled across one of the best technical instructors out there. Scott Huston is highly regarded by many as one of the most technical instructors and top notch Jiu-Jitsu practitioners in the region. His academy, 360 Brazlian Jiu-Jitsu, is recognized by some as the best in the state of Wisconsin.
Combining Scott Roffers' experience with the instruction and training partners at 360 BJJ soon proved to be a powerful recipe for success. Scott has competed at local and international levels with great results. He has a passion for the art of Brazilian Jiu-Jitsu and is excited to be able to educate people from all walks of life and ages in what is known as "the gentle art." Through Silverback BJJ, Scott intends to help people by emphasizing the importance of a healthy mind and body that can be achieved through fitness and, what some call, the most effective martial art.
Scott's professor, Scott Huston, had this to say about Scott: "Scott is one of my very best students and a good friend. He is a leader and inspiration for many of us both on and off the mat. Scott's world class accolades in addition to his ability to teach and communicate with others have made him a standout. Whether you are hobbyist looking to self improve in a family friendly environment or if you want to become a world class competitor you will be in great hands!"
11x IBJJF Masters World Champion
6x IBJJF Masters Pan Am Champion
3x IBJJF Masters European Champion
1x IBJJF North American Masters Champion
28x IBJJF Chicago International Open Champion
Scott was promoted to black belt on May 21, 2021.
On November 12, 2021 Scott won the IBJJF World Master championship in the Black Belt master 6 heavyweight division. This made him the first male IBJJF Gi World Champion in Wisconsin! It's no surprise that his teammate Andy Kazik from Green Bay Jiu-Jitsu is the first male IBJJF No-Gi World Champion in Wisconsin! Scott returned to the IBJJF World Master championship in September of 2023 to win his third world title at black belt! Scott's coach, Scott Huston, also achieved a world title at black belt in 2022! Proving once again that the Wisconsin 360 Jiu-Jitsu affiliation is legit.

In September of 2023 he ranked as the number 1, Masters 6 heavyweight black belt in the world by the International Brazilian Jiu-Jitsu Federation.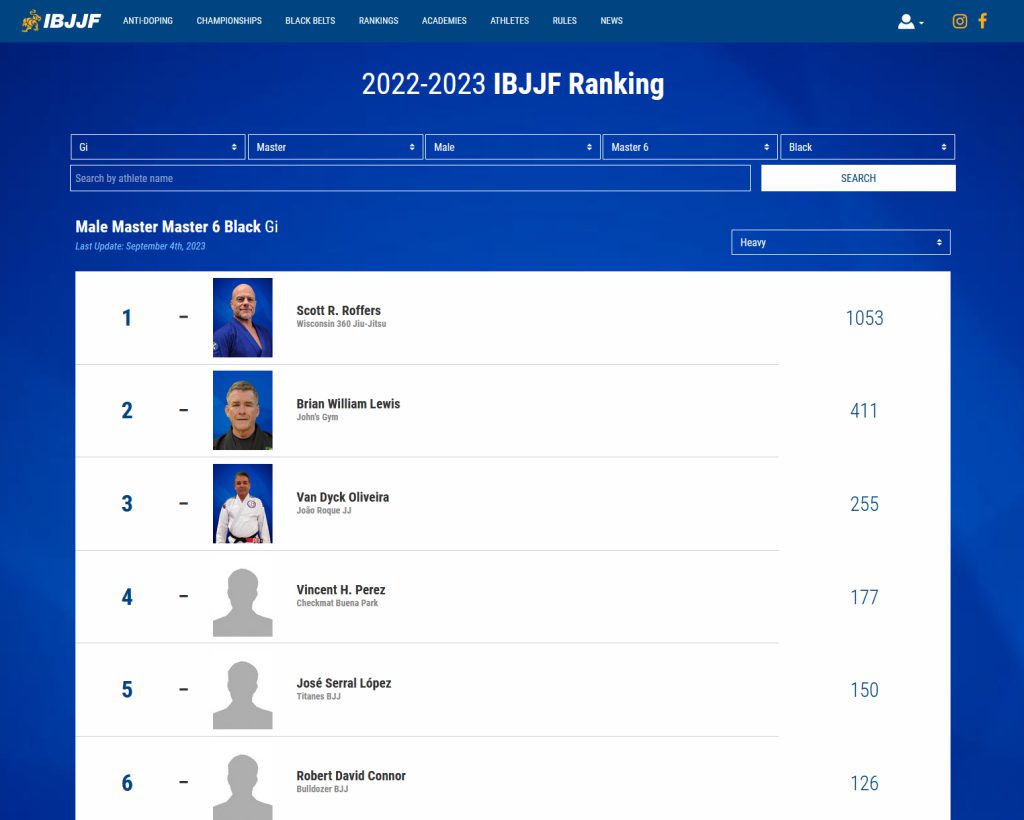 He was also ranked number 3 in the overall Master 6 black belt ranking!
In August of 2019 he ranked as the number 1, Masters 5 brown belt in the world by the International Brazilian Jiu-Jitsu Federation.
In 2016 he was the number one ranked Masters 5 purple belt in the world by the International Brazilian Jiu-Jitsu Federation.

For more about Scott's BJJ journey, check out his personal page at www.roffers.com.
---
Dylan Peterson
Youth & Fundamentals Instructor
Dylan is a purple belt under professor Scott Roffers at Silverback BJJ.
I started my fond of BJJ in the military back in 2009. I was stationed in ft Eustis, VA. This were I met my first combatives instructor Russel Eleby. He got me started in army combatives. He helped me train for my very first military tournament. As with the traditional military style constantly moving around and training. Your always making friends losing some and some you will never forget. I was luckily stationed in the aloha state Hawaii. This is where I got to further my combatives career. I met a new instructor, friend, and leader. David "LLamea" Scott a long time BJJ, kick boxer, and muy tai enthusiast. Scott really helped me with furthering my combatives(which will turn into MMA) and military career. Moving forward sometime. I lost both my original instructors through military change of stations. I am now in FT Campbell, KY 2014. Stationed in a new unit and learning who my new leadership is. To my surprise I found both of my combative instructors, Scott and Eleby. Getting to train with them at team legion with multiple coaches from boxing to BJJ to military combatives, pretty much MMA with taser knives. Living the life to the fullest I was training muy tai, kick boxing, and BJJ. Building a great group of friends and fight team. But like all good things they come to an end and with the military "she" knew we were having way too much fun. As time passed, I made a decision to get out of active duty as was a good time because the fight team we had built together was disappearing. Moving and looking around at where I was going to end up. I found myself looking at Silverback BJJ. It was right close to where I grew up and was planning on moving back to. In July of 2017 I became a full member at Silverback BJJ.
Looking back on my career path there is definitely things I would change to better myself. Like not quitting. With Brazilian Jui-Jitsu and the people I have meet they will always be there in my mind.  There is something to be said about fighting with someone or somebody that also trains. When you trade blows or roll with them you build a trust and respect. Before you know it, time will pass like it was yesterday, the people you started training with are now your friends and will call you out if you missing a class. It is a BOND that we all forge in BJJ and that is why I train.
---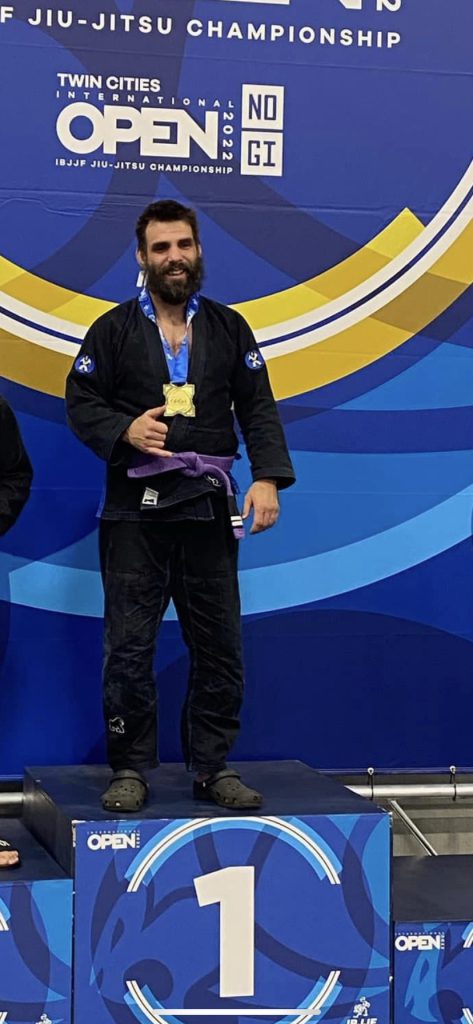 Jason Schmitt
Youth Instructor
Jason is a purple belt under professor Scott Roffers at Silverback BJJ.
I started training in 2016 and my main focus at that time was to learn how to defend myself. I then crossed over to the competition side of BJJ and moved my focus on to competing. I have competed in local tournaments as well as IBJJF tournaments. I started at Silverback in 2019 to enhance my skills for competition and also to learn under Scott Roffers. I started at Silverback as a blue belt and received my purple from my professor. I enjoy coaching kids and helping them along with their journey. Not only does teaching kids give me a sense of pride but also it's helping me with my journey of learning and how to be a good coach. Jiu-Jitsu has taken me to many places and I have met a lot of people and I can't wait to see what the future holds as my journey continues. I'm very proud to be a Silverback.
---
Mike Jaremba
Day Class Instructor
Mike is a purple belt under professor Scott Roffers at Silverback BJJ.
Growing up, I always loved the sport of boxing. However, in the small town of Waupun, Wisconsin in the 90's, there really wasn't anywhere to train close by. So, it wasn't until after high school that I discovered Mixed Martial Arts (MMA) and found myself watching it every chance I could get. I thought it was the ultimate sport; a chess match between two individuals, and I wanted to try it! I wanted the challenge, so I started looking up gyms in the area. I found one called Third Heaven Martial Arts that did MMA and Brazilian Jiu-Jitsu (BJJ). It took a bit of courage, but I finally made my way there and it changed my life completely—I knew what BJJ was from watching MMA, but I never realized how effective it was until I experienced it first-hand. From that point forward, I was hooked! I knew I had to get better at this.
In 2006, I began my Jiu-Jitsu journey with instructor Justin Morris at Third Heaven Martial Arts. I also spent a lot of time training at Unified Martial Arts with head instructor Michael Biddle. In this time, I attended any Jiu-Jitsu, MMA, or Muay Tai Kickboxing seminar I could make it to.
Once Scott Roffers opened Silverback Brazilian Jiu-Jitsu Academy in my hometown of Waupun, I knew I had to check it out. Instantly, I fell in love with Scott's style of teaching, passion, and professionalism in the sport and knew I had found a new home.
There have been some extended breaks from the sport due to injuries and personal reasons, but I have always found my way back to the mats! Overall, I have competed in amateur kickboxing, amateur MMA, and a lot of grappling tournaments. I won the King Grappler Lightweight Blue-belt Division, and the King Grappler Lightweight No-GI Intermediate Division. I have placed in Combat Corner's Grappling Championship, North American Grappling Association (NAGA), and other local grappling tournaments. I have also helped coach and corner teammates to become amateur MMA champions.
Now that I am with Silverback BJJ here in my hometown, I am excited to give back to the community and share my knowledge that I have gained over the years. I have put a lot of blood, sweat, and tears into this sport, but it has given me so much more back, changed my life, and molded me into a better person. As my Jiu-Jitsu journey continues, I look forward to teaching good, clean technique to the others who call Silverback Brazilian Jiu-Jitsu Academy home.